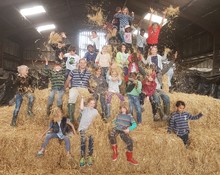 Visit from St Jude's Primary School
Elvetham Farm has hosted another visit from St Jude's Primary School in South East London as part of their curriculum topic "Where Does Our Food Come From" .
The children have been learning about how food gets from the farm to their plates. The day was organised by the The Country Trust, a national educational charity, that conducts educational expeditions for groups of children and their teachers from inner towns and cities.
Fun was had by all, highlights included holding the chickens, meeting the ponies and cattle, running through the barley and a straw fight with their teacher before heading off onto a tractor and trailer ride around the Elvetham Estate. The staff from the Estate enjoyed the visit as much as the children and hope to repeat the exercise again with another class next year.