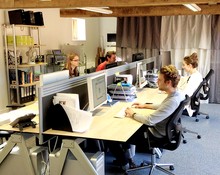 Shine Creative Moves Into Causeway Farm Development
Thriving Hampshire based design agency Shine Creative has recently moved into a quintessentially English converted barn complex which once operated as an old dairy farm and is one of Hartley Wintney's most sought after commercial developments, owned and managed by the Elvetham Estate.
Shine is a RAR Top 100 integrated creative agency. With over a decade's worth of experience, they believe that good relationships mean good business and provide a service based on traditional values. The team have been cherry-picked for their unique skills, whether it be creating outstanding design, compelling copy, captivating website development or simply having a way with people. As an agency Shine creates inspirational ideas, unearthing the unexpected and making an impact on the people who matter.
Founder and Creative Director Samantha Stokes has worked with a number of local businesses in the area, including the magnificent Elvetham Hotel, helping to promote their excellent conference and wedding facilities. Her work with the Elvetham Estate started over two years ago when she was invited to tender for the Estate's new website.
Samantha Stokes comments 'Since working with the Elvetham Estate to develop their new website, our agency has truly flourished and the new office development has given us the perfect environment to not only enjoy the heritage of such a beautiful location but to offer a more professional environment and an area of escapism for some of our city based clients to come and discuss new initiatives in peaceful surroundings. The Estate has been tremendously supportive and has helped to create a strong community spirit.'
Together the Estate and their building contractors have delivered a high spec build with a stunning end result. They have skilfully restored a traditional building with period features, such as oak beams, high ceilings and large open spaces, but introduced features to cater for innovative and evolving businesses like Shine Creative
Sam Stokes comments' We consider ourselves very fortunate to be working in such a beautiful environment which is perfect for creative inspiration, and we are delighted to carry on our working relationship with the Elvetham Estate and to reinforce their unique brand message of 'a great place to live and work'.