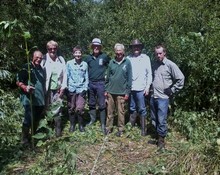 Volunteer Working Party Day
We recently held a volunteer working party day in association with The Hampshire and Isle of Wight Wildlife Trust. The aim was to clear the dragonfly pond on the Elvetham Estate of the Himalayan Balsam that is currently growing there.
We had to ensure the plants were removed before the flowering season next year and have made a strong start in clearing the entire northern bank of the pond of Balsam.
We started to push north towards the River Hart and hope to revisit the site next year for the second phase. There is still plenty of work to do but the pond edge has now been cleared.
Our thanks go to Elliott Fairs of H&IOWWT and his party of volunteers, pictured, courtesy of Laurie Clark