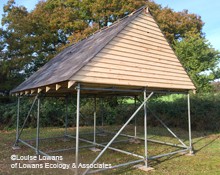 Providing a Home for Local Bats
One of our barns is being used as maternity roost by a small number of brown long-eared and common Pipistrelle bats. The bats use the barn during summer, between May and September, to have their young. A Barn Owl has also occasionally used the barn.
Whilst the roofing work is being carried out, alternative roosting facilities for the bats and Barn Owl have been provided on site and permanent provision will be incorporated into the barn.