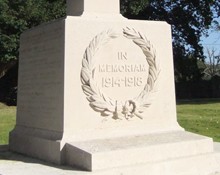 Elvetham War Memorial
Tucked away in the grounds of The Elvetham Hotel, and rarely attracting attention, is a monument to the bravery of Elvetham soldiers in two World Wars.
This twelve feet high memorial was built as a tribute to the men of Elvetham village who made the ultimate sacrifice in the Great War and twenty years later in World War II. It was originally unveiled on 22nd April 1922 by the Hon. Sir Arthur Gough-Calthorpe with a thousand people attending the dedication service.
Since then the effects of time and Mother Nature have taken their toll but, with funding secured from the War Memorial Trust and Bayfield Charitable Trust, the memorial has recently been cleaned and restored to its former glory.
The main plinth holds the name of seventeen men who fought in the major engagements of the war and died away from home as far as Gallipoli, Italy and Greece. A separate stone was added holding the names of seven men who fell in the Second World War between 1940 and 1945. These twenty four men in total represented the lifeblood of the village and their loss would have been keenly felt.
Following the conclusion of the Remembrance Day proceedings at the Hartley Wintney War Memorial (by St John's Church) residents and visitors accompanied Rev Ward, together with representatives from the Parish Council and the Royal British Legion, to attend a short blessing and prayers at the newly restored Memorial in the grounds of the Hotel.